Corporate & Social Events Menu
Minimum Order of $500
All prices include eco-friendly disposable utensils, plates, napkins & serving pieces
The Hearty Breakfast
$11.95 Per Person
Fresh Fruit Display, Sausage Links, Scrambled Eggs, Hash Browns, and Orange Juice
Continental Breakfast
$8.95 Per Person
Fresh Sliced Fruit Display, Single Served Yogurt Cups, Assorted Muffins, Bagels and Cream Cheese
Served with Orange Juice.
Assorted Breakfast Sandwiches
$4.50 per Sandwich
Bacon, Egg & Cheese and Sausage, Egg, and Cheese
Served on a Flaky Biscuit.
Gourmet Coffee Stations
$8.50 Per Person
Regular and Decaf Coffee, Cinnamon Sticks, Chocolate Shavings, Whipped Cream, Vanilla, Carmel, and Hazelnut Syrups, Creamer, and Sweeteners
Fresh Fruit Cup
$3.50 Per Person
Honeydew, Cantaloupe, Pineapple, Grapes & Berries
Fresh Baked Assorted Muffins
$15.75 per Dozen
Assortment of Blueberry, Banana Nut & Apple Cranberry 
Orange Juice per Quart
$15.00
Sausage or Bacon per Pan
$16.00
Cinnamon Rolls per Dozen
$22.00
Regular/Decaf Coffee per Gallon
$35.00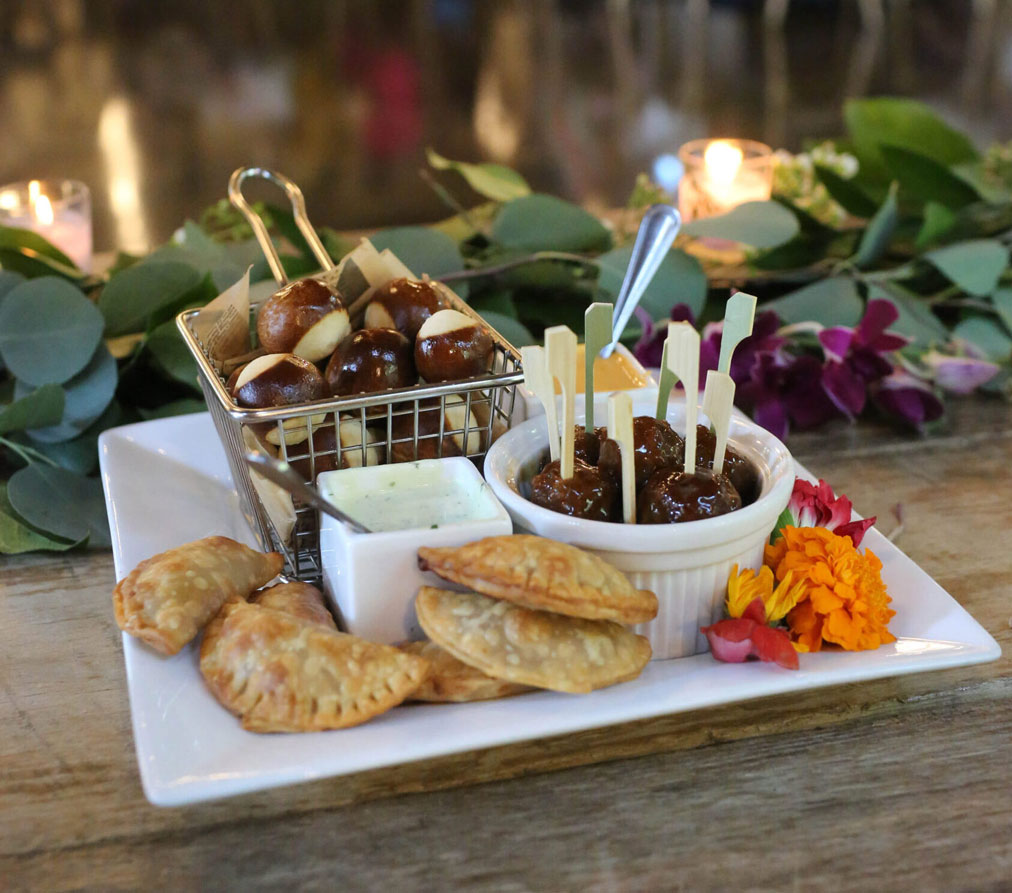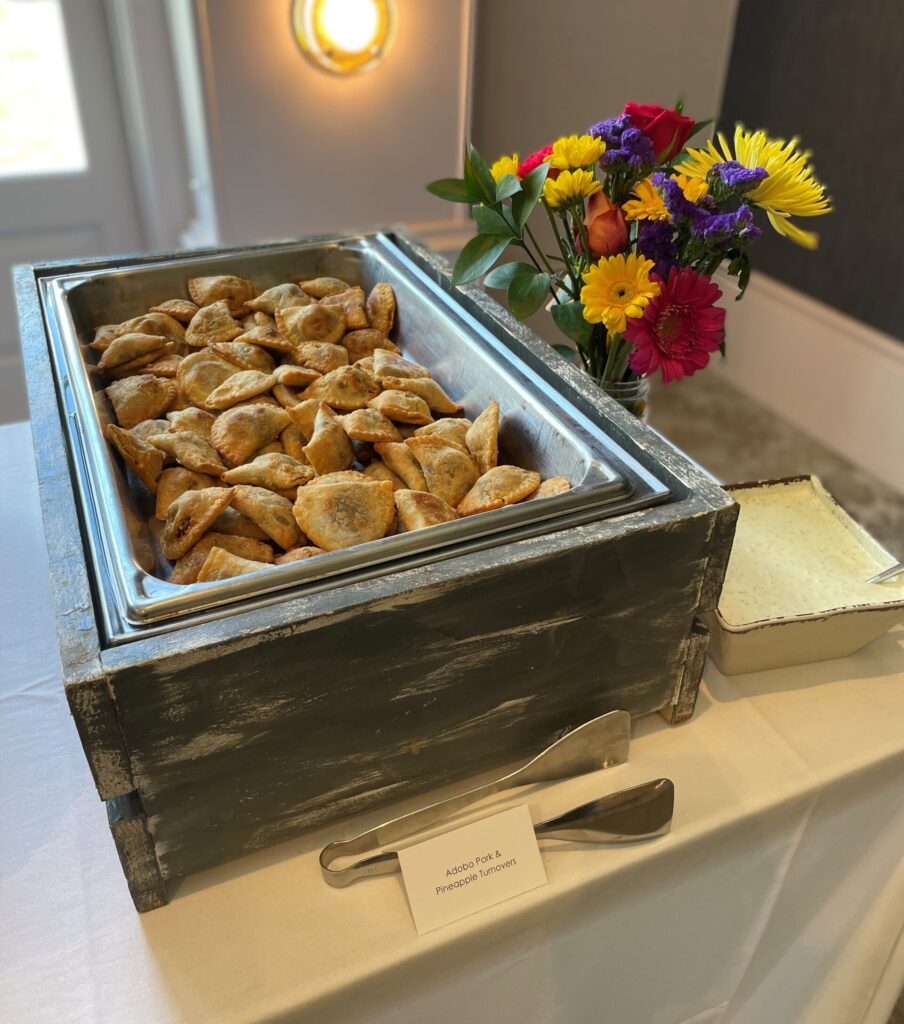 Fresh Fruit Display
$45.00
Domestic Cheeses with Assorted Crackers
$38.00
BUffalo Wings with Dipping Sauce
$95.00
50 Pieces
Served with Ranch or Blue Cheese Dip
Oven Warmed Pretzel Bites with Beer Cheese
$48.00
Sweet and Tangy BBQ Glazed Cocktail Franks
$44.00
Phyllo Pear & Brie Bites with Raspberry Marmalade
$137.50
Adobo Pork & Pineapple Turnovers with Cilantro Sour Cream
$137.50
Assorted Mini Pizzas
$137.50
Chicken Quesadilla Cornucopia with Salsa
$137.50
Smoked Pork Rib Tips with Carolina Style BBQ
$137.50
Sliders - Chicken, Pulled pork, Cheeseburger
$150.00
Bavarian Soft Pretzel Rolls with Craft Beer Cheese
$137.50
Vegetable Spring Rolls with Dipping Sauce
$137.50
Chicken Mango Spring Rolls with Dipping Sauce
$137.50


Artisan Soup, Salads & Wraps
Fresh, Ripe Tomatoes, Basil, and Onions are Combined with a Touch of Heavy Cream and Hint of Ground White Pepper
Iceberg Lettuce with Carrots, Tomatoes, and Cucumbers
Served with Ranch and Balsamic Dressings.
Substitute Caesar Salad for .75.
Sliced Chicken with Fresh Diced Tomatoes, Lightly Tossed with Olive Oil, Parmesan, and Basil
Greek Portobello and Feta Wrap
Marinated Grilled Mushroom with Crumbled Feta and Diced Kalamata Olives on a Bed of Hummus
Sliced Turkey Breast with Bacon, Lettuce, and Tomato
Buffalo Chicken with Red Onion, Tomato, Shredded Lettuce, and Blue Cheese Crumbles


Fajita Chicken with Grilled Peppers & Onions, Rice, Soft Tortillas, Tortilla Chips, Queso, Guacamole, Salsa, Pico de Gallo, Shredded Cheese, Shredded Lettuce, Sour Cream, Limes, Hot Sauce, and Corn Salsa
Smoked Pulled Pork Served with Buns and Carolina Style and Hickory Smoked BBQ Sauces, Potato Salad, Coleslaw, and Potato Chips
Pasta, Pasta, & Salad
$15.50
Cavatappi Alfredo with Grilled Chicken & Penne Pasta with Mushrooms, Artichokes, Black Olives, Zucchini, and Tomato Basil Sauce
Served with Spinach Salad and Parmesan Butter Breadsticks
All American Sliders
$18.00
(Choice of 2 Sliders) Chicken Sliders, Pulled Pork Sliders, or Cheeseburger Sliders
Served with our Signature Mac n Cheese with Bacon & Parmesan Cheese, Hot Apple Cobbler, and Kettle Chips.
Grilled Hamburgers and All Beef Hot Dogs with Buns, Sliced Cheese, Lettuce, Tomato, Onion, Pickle, Ketchup, Mayo, and Mustard
Served with Kettle Chips.
*Substitute Brats for $1.50
Home-Style Fried Chicken and Cheesy BBQ Mac-n-Cheese Casserole
Served with Corn Bake and Creamy Coleslaw.
Ultimate Corporate Lunch
$21.00
Sundried Tomato Roasted Chicken Breast with Pesto Cream Served with Green Beans, Herb Roasted Red Skin Potatoes, Spinach Salad with Blueberries, Strawberries, Slivered Almonds, and Red Onion with Balsamic Vinaigrette Dressing
All Day Conference Package
$32.50
Includes a Fresh Continental Breakfast with Your Early Morning Necessities.
Your Choice of Lunch Buffet from Our Corporate Lunch & Dinner Menu Included.
Finally, End with an Afternoon Snack Break.


Sausage, Mozzarella, & Ricotta Lasagna
$42.00
50 Pieces
Served with Ranch or Blue Cheese Dip
Potato Salad or Coleslaw
$35.00
Home-Style Fried Chicken
$35.00
Chargrilled Smoked Sausage hoagie
$97.50
Hamburgers and Buns
$65.00
Sunny's Chicken Tenders
$175.00
Freshly Baked Cookies
$21.00 Per Dozen
Indiana SUgar Cream Pie
$20.00
Strawberry Shortcake Trifle
$40.00
Fudge Brownies
$21.00 Per Dozen
Apple, Cherry, or Peach Cobbler served with Whipped Cream (Serves 10-15 People)
Freshly Baked Cupcakes
$36.00 Per Dozen
Bottled Water
$2.00 per bottle
Iced Tea or Lemonade
$18.00 Per Gallon
(Approximately 10 Servings)
Regular/Decaf Coffee
$35.00 per gallon
(Approximately 15 Servings)
Like most restaurants, we prepare and serve products that may contain egg, milk, soy, wheat or other allergens. While a particular food may not contain one of these allergens, our products may be prepared on the same equipment and in the same kitchen area as those that do. We cannot guarantee that cross contact with allergens will not occur and neither Simply Served or our employees assume any responsibility for a person's sensitivity or allergy to any food item provided in our meals. Variations may occur due to differences in suppliers, ingredient substitutions, recipe revisions, and/or product production.